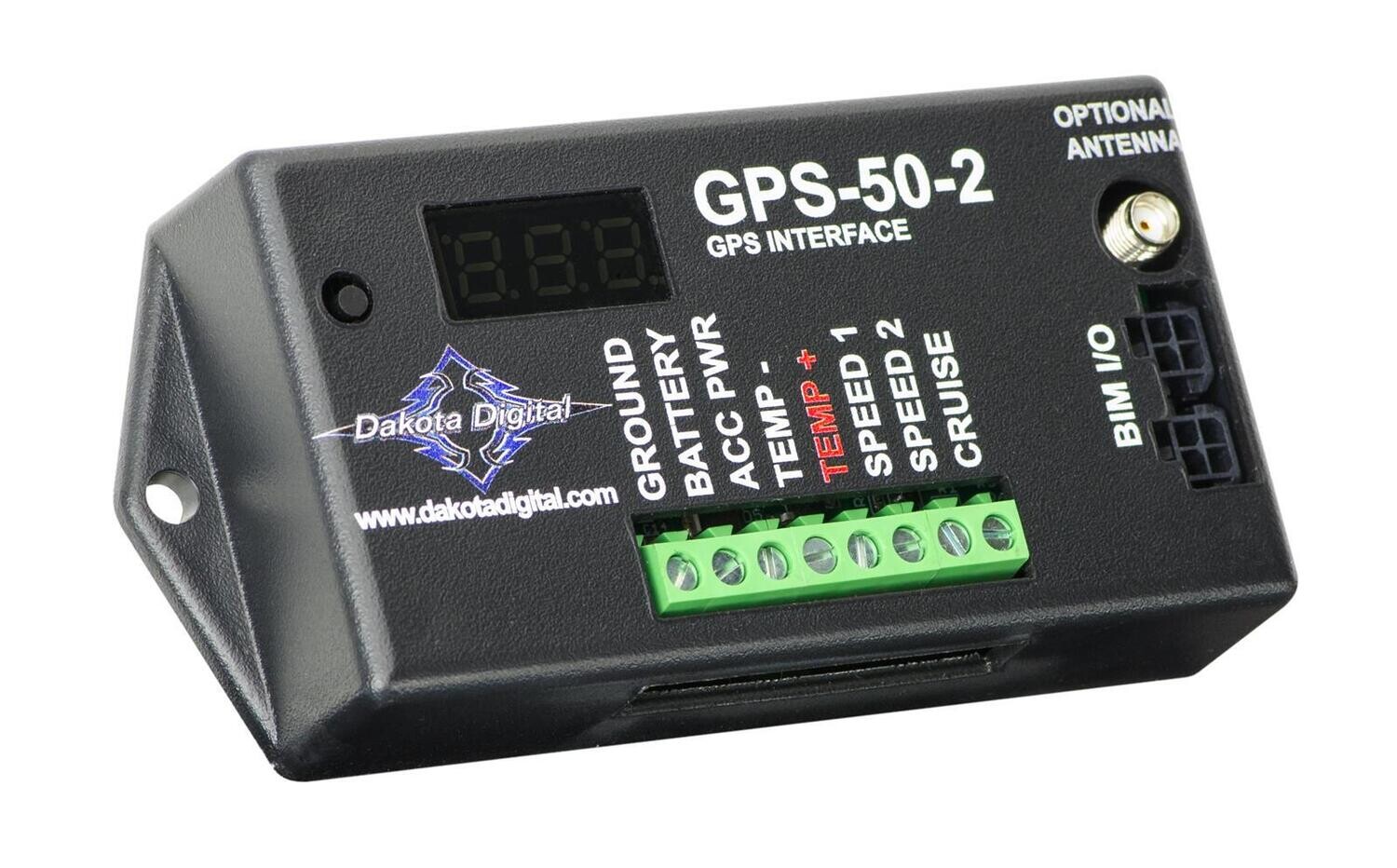 GPS-50-2 GPS Speed Sensor (Compatible with Syndicate Series Gauges)
GPS-50-2
Product Details
At last, a GPS Speed sensor which can be considered something more. GPS technology offers many benefits in today's world. When Dakota Digital set out to create a GPS receiver, it was never to create just a means of driving a speedometer, but rather to extract as much useful information as possible, making the value of the product unlike anything else available.
The GPS-50-2 was completely Designed and Built in the USA, specifically made for the custom automotive market and the unique challenges which exist. Highly advanced electronic and software design allow the GPS-50-2 to work unlike anything else, with accelerometers and predictive software to compensate for times when GPS inherently struggles: overpasses, mountains, tunnels, heavy tree cover, large buildings, passing large vehicles, etc. Unique electronic architecture provides for negligible current usage when off, yet lightning fast start-up and signal acquisition. Updating the speed information 10 times per second provides tremendous accuracy, while the integrated omni-directional antenna provides for a wide range of installation flexibility.
Want to use the GPS-50-2 to activate a cruise controI system? No problem! A cruise control system requires a great deal of resolution and accuracy, so adding the 600041 external antenna will allow you to optimize the antenna mounting, while placing the GPS-50-2 receiver anywhere you like!
When used in conjunction with a Dakota Digital RTX, HDX, VHX or VFD3 Instrument system, a simple connection to the control box adds accurate Speed information, Compass heading, Altimeter data, and automatic Clock syncing, all with fully automatic calibration! No DIP switches, no guessing, no inaccuracies, period.

The GPS-50-2 is also fully compatible with other aftermarket electronic speedometers. Offering a user selectable output of 4k, 8k, 16k PPM signals and a selectable signal type of a Sine Wave or Square Wave, the flexibility is endless. While the GPS-50-2 is not designed to control a shift computer or shift pattern of the transmission, it is capable of supplying a 54,400 or 128K PPM signal to supply an ECM to ease some of those unique transmission swap situations!
The GPS-50-2 measures in at an easy-to-hide size of 4-3/4"x 2-3/4"x 1", and is completely covered by a two-year warranty.
Compatible Dakota Digital instrument system: RTX, HDX, VHX and VFD3 systems with a black plastic control module. For any BIM-compatible control boxes which contain the 3.5mm headphone jack BIM input, add part number 394193 adaptor harness. Earlier instrument systems with an aluminum control module are not capable of BIM connectivity, however can be used with the GPS-50-2 for obtaining an accurate speedometer signal.
Save this product for later